Helping SE Asian companies report on sustainability
Published date: 03 September 2019
GRI expands global reach as ASEAN Regional Hub opens in Singapore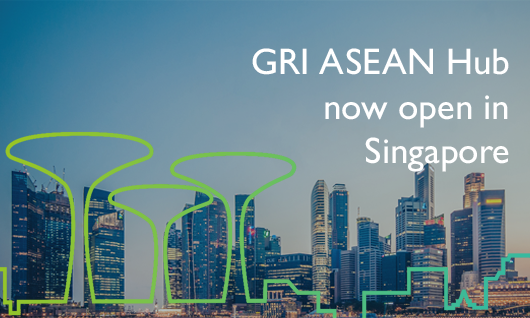 ​
A new GRI Regional Hub has officially opened today in Singapore, to serve the ten countries of the Association of Southeast Asian Nations (ASEAN).

The office will support ASEAN companies with relevant services and training, helping them on their journey to identify, manage and report their most material environmental, social and governance (ESG) impacts. The Hub will also liaise with governments, capital markets, civil society and other stakeholders in the region.

As the ASEAN economies develop rapidly, they increasingly face sustainability impacts that can slow growth and decrease quality of life. To help meet these challenges, market regulators in the region, including the Singapore Exchange (SGX), have recognized the value of corporate transparency and require companies to disclose ESG data.
Headed by Michele Lemmens, a highly experienced business executive from Tata Consultancy Services (TCS), the Hub is co-located at the offices of Global Compact Network Singapore (GCNS), the Singapore chapter of the United Nations Global Compact.
Tim Mohin, GRI chief executive, said:

"Our ASEAN Hub has a crucial role working with companies in Southeast Asia to unlock the benefits of sustainability reporting. GRI's experience around the world shows disclosure helps businesses improve performance, build relationships with global buyers and increase their reputation as responsible global citizens.  
Economic growth in the ASEAN region presents an historic opportunity to embed corporate responsibility at an early stage and align capital to sustainable ways of working. The only way to do this is with high quality ESG disclosure based on a global common language – the GRI Standards.  
I am hugely grateful to all of the partner organizations, as well as the Singaporean government, who have supported us launch this Regional Hub. We look forward to a long and successful partnership to help embed sustainability into the ASEAN economy."
Girish Ramachandran, TCS Asia-Pacific President and a member of the GRI Board, said:
"TCS follows the Tata Group philosophy of building sustainable businesses that are rooted in the community and that demonstrate care for the environment. Our company believes that corporate sustainability extends to the triple bottom line of people, planet, and profit; and sustainability reporting provides the transparency and accountability that are the driving forces in business leaders' decision-making processes.

It is an honor to contribute to the launch of the GRI ASEAN Hub and to be a consortium member."

Goh Swee Chen, President of GCNS, said:
"Sustainability reporting forms an integral part of the business strategy of most leading companies worldwide and looks set to grow in importance in the region. Building on the partnership between GRI and the United Nations Global Compact, GCNS is honored to contribute to furthering sustainability reporting in the region as the hosting organization of GRI's ASEAN Regional Hub."  
SGX hosted a celebratory event today to mark the opening of the Hub. Tan Boon Gin, Singapore Exchange Regulation CEO, added:
"We welcome the establishment of GRI's Regional Hub in Singapore where it can generate valuable know-how for ESG reporting and sustainable finance, and in turn contribute to the development of Singapore as a global financial center."
Notes to editors
The Hub's launch has been made possible thanks to the backing of a consortium of 12 organizations: CapitaLand, City Developments Limited, DBS Bank, EY, Keppel Corporation, KPMG, PwC, Sembcorp Industries, Singapore Exchange, StarHub, Stewardship Asia, and Tata Consultancy Services.
These organizations have contributed towards the funding for the initial three-year startup period. They will also participate in the GRI ASEAN Advisory Committee, which will inform the hub's regional action and priorities.
The ASEAN Hub will coordinate GRI activities and support in Singapore, Malaysia, Indonesia, Philippines, Thailand, Vietnam, Cambodia, Laos, Myanmar, and Brunei Darussalam.


Global Reporting Initiative (GRI) is the independent international organization that helps businesses, governments and other organizations understand and communicate their sustainability impacts. GRI offers the world's only international, independent, multi-stakeholder disclosure standards for ESG data.  More than 90% of the world's largest companies report ESG information, of which 75% use the GRI Standards.  
The ASEAN Hub in Singapore adds to GRI's regional network: North America (New York), South Asia (New Delhi), Africa (Johannesburg), Greater China Region (Hong Kong), Hispanic America (Bogota), and Brazil (São Paulo). GRI's Secretariat is based in the Netherlands (Amsterdam).