Business as a driving force behind SDGs collaboration
Published date: 10 August 2022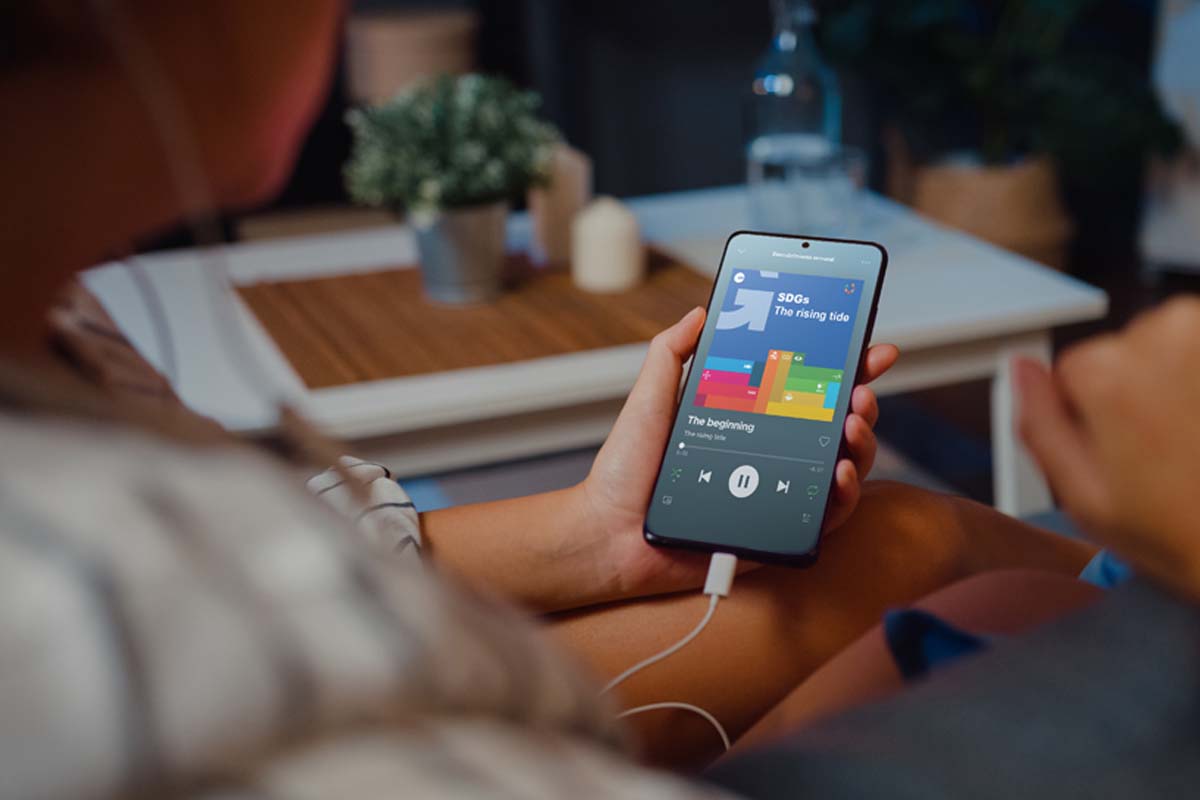 Latest podcasts address collective action for a sustainable future
What is the role of multi-stakeholder partnerships in addressing the Sustainable Development Goals (SDGs)? Top experts from the field of corporate sustainability get beneath the surface of this issue, in the final two instalments of SDGs: The Rising Tide.
The podcast series, from Global Reporting Initiative (GRI), examines the challenges and opportunities of business action for the SDGs. Two new episodes explore why working in silos will not address the complexities of the sustainability transition; and how cross-sectoral collaboration promotes a more holistic approach to development that safeguards nature.
SDG 15: Life on Land 
This episode features Elim Sritaba, Chief Sustainability Officer at Asia Pulp & Paper (APP), and Elodie Chêne, Sustainability Standards Manager at GRI. They stress that not only does collaboration help create a common language but common ground as well.
As Elim explains: 
"In order to be successful, we know that we need to be transparent about our products and production processes and demonstrate a clear link between the needs of our customers, people, and stakeholders. Company plans need to inevitably be backed up by action, investment, and collaboration. Protecting and preserving biodiversity requires us to consider a broad range of sectors and stakeholders in the decision-making process. Collaboration is essential, and it includes working with governments, the private sector, and communities for a common goal." 
In the second half of the episode, Elodie shares her insights on the importance of collaboration between GRI, the European Financial Reporting Advisory Group (EFRAG), the Taskforce on Nature-related Financial Disclosures (TNFD) and CDP for the revision of GRI's Biodiversity Standard (GRI 304), which will result in a greater alignment with existing frameworks and tools and a more effective and comparable reporting: 
"We want to enable companies to disclose their contributions to the SDGs. With biodiversity, we see that some of the biggest impacts lie in the supply chain, and it makes it harder for companies to assess those impacts. Through collaboration, we can help create that common language on why biodiversity and reporting on the related impacts is important. We are not trying to create a new framework, but rather we want to adhere to the best practice for our own standard, and this is exactly what collaboration with other organizations helps us to achieve." 
SDG 17: Partnerships for the Goals 
Wrapping up the series, we hear from Felix Dodds, Adjunct Professor at the University of North Carolina's Water Institute and the Gillings School of Global Public Health, and Charlotte Kirby, Vice President of Global Strategic Relations at Salesforce. They discuss the strategies behind effective partnerships and why global challenges require global solutions.
Felix sets the tone: 
"If stakeholders are going to be engaged in helping governments make better and more informed policy, then they have a responsibility - either singularly or by working with other stakeholders - to implement those global agreements. That is the theory of stakeholder democracy. I am a huge supporter of partnerships, but we need accountability - because a lot of people's time and a lot of money goes in, but it's not so clear if partnerships are delivering on what they say they are doing." 
Charlotte gives her take on what success looks like: 
"Once upon a time, partnerships were all about funding, but things have changed incredibly. Now we understand that when you come at something together - as one - then what you are going to achieve is always going to be so much more than if you come at it from silos. The root of a successful partnership is that you start at the beginning: you discuss the challenge together, you come to an agreement together, and then you work and innovate to implement change – together, side by side." 
The Rising Tide can be accessed on Spotify, Apple, and Google podcast. In total, 18 episodes are available - an introductory edition, and 17 that cover each of the Global Goals in turn.
GRI thanks the Government of Sweden for supporting this project through the Swedish International Development Cooperation Agency (Sida). 
GRI has a range of SDGs reporting tools and guidance, as well as undertaking SDGs initiatives with governments and corporate partners. The GRI Business Leadership Forum on the SDGs is supporting collaboration with 16 participating companies.